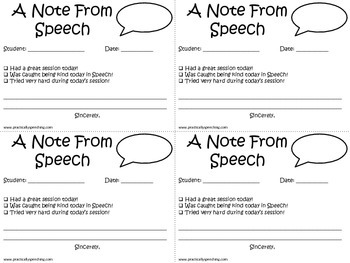 I instagrammed (is this a word? I use it all the time lol)a photo last week of my "a note from speech" printable. It's a great way to quickly make a connection between the speech room and home!
There are 4 notes per page, all in black and white to help with your printing woes :) Each has a three lines that you can check off:
____ had a great session today
____ was caught being kind today in speech
____ tried very hard during today's session
Check off and write a little note, and you're good to go! It fits perfectly in any speech notebook or folder!
Download this freebie
HERE
on TpT.