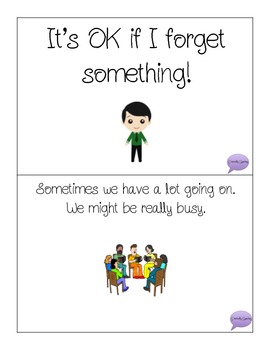 To go with the "spooky social story" theme on instagram, I'm sharing my social story that I recently made. It covers what to do if you forget something, and that it's OK to forget things.
A lot of my students with ASD have trouble if they forget a homework, or their notebook. I've had quite a few upset kiddos, and I'd like to think this social story is the gateway to a good coping mechanism!
The story follows the basic premise that you can forget things if you're busy, and that you can always bring them tomorrow! It also includes a few worksheets to go with the story. Try sequencing the steps of what you can if you forget something, circling the appropriate responses, or listing what you can forget and what you can then do to help yourself.
Download this activity
HERE
on TpT :)