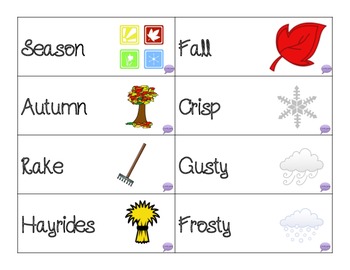 I'm sure you caught my
Fall Book Haul photo
on instagram! I have been purchasing away - discount shopping, of course! Most of my gently used books are between $2 and $5! One of these gems is
"Let it Fall" by Maryann Cocca-Leffler
. It was delivered to me after I accidentally bought TWO for $4! Oops...mom got one too though! So it all worked out!
Anywho, we're working on "attributes" or "describing" in my
Speech room this week. We started off describing characters from my
"If You Take A Mouse To School"
packet, and now we're off and running! "Let it Fall" is
packed
with attributes, so I decided to make a little packet of activities for
my kiddos - and you of course! I'm starting to introduce fiction vs. nonfiction, so I'm using
Discovery Education's video "The Four Seasons"
(chapter 4 for fall) as my nonfiction video.
We're going to graph our attributes for fall, and organize our ideas about fiction vs nonfiction in a chart. We're going to also be decorating leaves and doing peer reviews using attributes to describe our neighbors work!
You can find this packet
HERE
on TpT! Hope you're falling in love with fall!